I never knew how many friends I had till posting the Pity Party for one the other day. I also never knew how blessed I am to have friends like you. I felt so much better to get that out of my system. Although immature or maybe immaturt as Snooty would say, it's what I felt at the time.

Thank you to all my friends who opened your hearts and memories to me about Christmas's past and how everyone has gone through the same thing at one time or another. It meant the world to me to hear this and be reminded that I am not alone. It was a reminder to me as well to "get over it already" and move on with the holidays. Hell maybe you all should have come for a visit and kicked my big ole ass over the weekend. Ha.

So girls this is for you thanks ever so much. For my proof positive of Santa Claus read the rest following.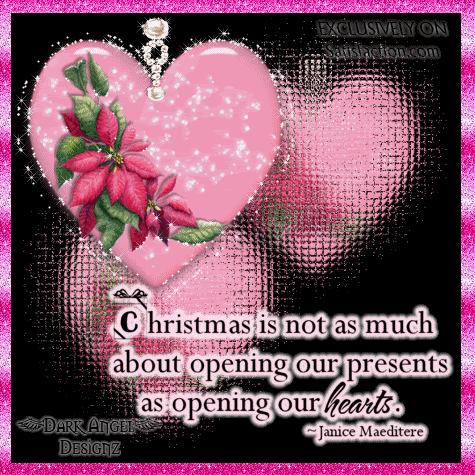 Free Comments and Graphics



At work since the beginning of December the company has been offering tickets

which you have to earn in various ways

for winning in a drawing, some really cool gifts for the holidays. I have worked my fanny off to get as many tickets as I could. The drawing was for, 2 ipods, mini laptop, digi camera, camcorder, big screen flat tv, and many more items. I had put each and everyone of mine into the mini laptop box hoping to win it for Princess this Christmas. Yesterday was the big drawing. I didn't win the laptop but I did win a $100.00 gift card to Wal-Mart. Tears filled my eyes as I went forward to receive the gift. My heart sang with emotion thinking that if you believe strong enough in something IT WILL HAPPEN.

So this is some proof their is a Santa.

Later yesterday Trucker texted me at work to say they had their annual Christmas dinner at the trucking company. I asked how it went and what did they have to eat? After a bit of this type texting he then told me not to worry about the holiday's. When I asked why he said he Santa gift at the dinner was a huge company bonus as promised!! Tears filled my eyes again and the smile on my face got even larger. I imagine in my mind it stretched from ear to ear.

More proof there is a Santa. We aren't telling the kids at all. Not even giving any hints. This is one Christmas the whole lot of them will actually be surprised to find gifts under the tree. It may even reconfirm there belief that Santa really does exist.

MERRY CHRISTMAS EVERYONE. MAY YOUR TRAVELS BE SAFE, YOUR FAMILY BE BLESSED AND YOUR STOCKINGS BE FULL. MAY YOUR HEARTS BE CONTENT.