Kacey over at Wine on the Keyboard asked what our wedding rings looked like yesterday. I thought I would take part in it along with others. Like her I am a fan of silver jewelry or white gold, never having really liked yellow gold on myself.

Sorry mom but you can still leave me all the yellow gold and diamonds someday.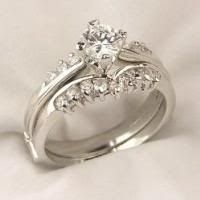 The day Trucker slipped t
his ring onto my finger was one of the happiest days of my life

if not the happiest.

I hardly ever take it off, even when cooking,

which let's face it I try not to do to darned often.



Trucker only wanted a small thin white gold band because he does not wear jewelry and because he never takes it off as well. Since he works in it he wanted something small. In the two years we have been married he has never taken his off.