If you read my blog lately you know I've been searching for new ways in which to decorate Trucker House, as well as DIY projects for the coming year. While surfing various, and oh so many blogs, I ran across
The Gypsy's Corner
. Tam has a beautiful blog full of all sorts of varying and highly interesting decorating, photos, dishes and the like. While reading many of her blog posts I discovered she hosts "Three or More Tuesday". So this week and hopefully more to come, I am taking part in this meme. I do hope you enjoy.
This first group of pictures is one of the projects I have been working on since Christmas. It's a new way to decorate my fireplace mantle for New Years. I used things I already had around the house. The champagne flutes you see in the picture are filled with Epsom salts for that glittery, sparkly look and each has a tea light candle on the salts. My mind is not creative enough to have thought of using the Epsom salts but this is one of many ideas I found while searching through other blogs.
The middle of my mantle sports a mosaic candle holder that Trucker gave me our very first Christmas when we were dating. Normally it graces the entry way table, but for now it is displayed proudly on the mantle. It's beautiful when lit at night as well as during the day.
To achieve all the glittery effects I simply wrapped very old silver garland around the greenery garland from Christmas. The greenery is prelit and I added one more set of the white lights. Also added to the mantel is crystal candle holders, more candles and tea lights.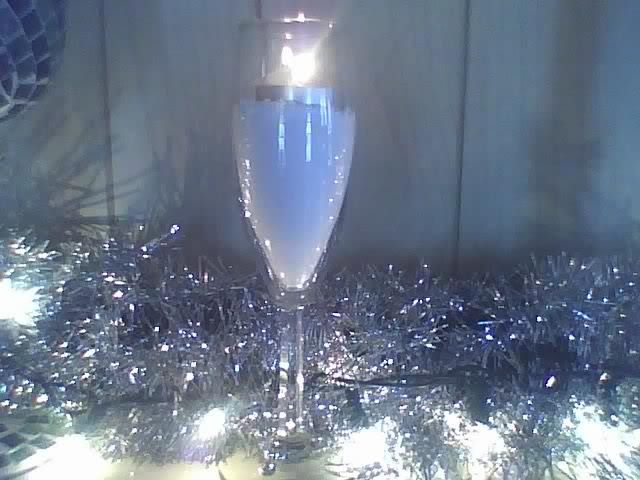 The next pictures is our "Ringing in the New Year" tree. I am a firm believer in leaving the tree up till after New Years so as not to bring our family any unwanted
bad luck.
Lord knows we don't need it. Once again I used things we already had around the house for decorating it. It is draped in gold beading (the same that was on the tree for Christmas) and the white tinkle lights. It is decorated with shiny silver ornaments shaped as music notes (hence the name Ringing in th New Year). I also embellished it with simple gold and silver ribbon (that has metallic thread running through it) tied into bows.
The topper is simple made from a sheet of scrap book paper in gold that has been shaped and glued together. Then I took some old gold garland and glued this to the bottom and the top. Now it resembles a New Years party hat.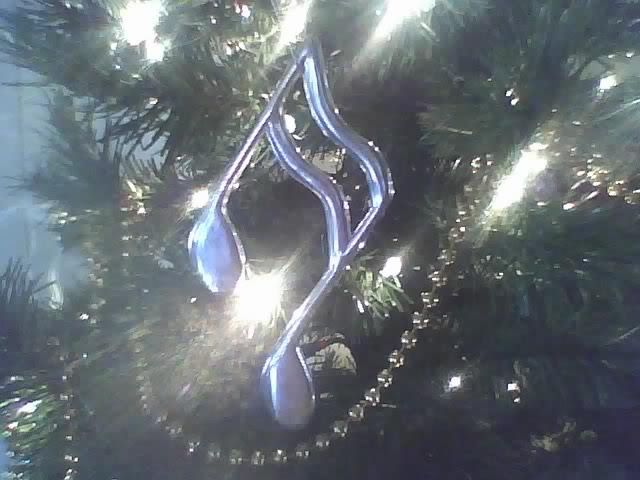 I hope my ideas and pictures have gave you some incentive and ideas to decorate your own homes for New Years. I would love to see more ideas from my readers, so get to posting your decorations for the holiday.
If you would like to take part in Three or More Tuesday visit
The Gypsy's Corner
to take part. Also be sure and check out the many other links posted for more fab. ideas and inspirations.
Later this week I will be posting my Tablescape for Tablescape Thursday. Can't wait to show you the New Years table design.