I'm excited to say that part of the new changes around here is taking part in Susan's,
Between Naps on the Porch
,
Tablescape
Thursday meme. This is my very first one to take part in. I've enjoyed viewing and reading all about the others and decided it was high time I done this for myself. So without further ado, I hope you enjoy my New Years
tablescape
.
Once again for the most part I've used objects I already had here at home. What can I say, I'm frugal that way! The majority of these items generally sit inside my china cabinet and never get used. That's sad too, they were handed down and should be for our enjoyment and use. So why the heck not use them?
BTW, please try your best to ignore the run down, worn out, much loved table. It is going to be one of my
DIY
projects very very soon.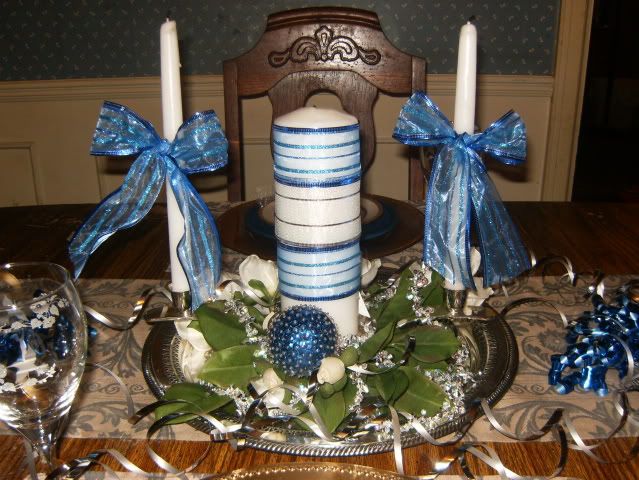 The centerpiece is the unity candle holder that Trucker and I used in our wedding. I simply glued ribbon around the pillar candle and tied the same ribbon around the tapered ones. The candle holder rests on a silver plate that was given to Truckers grandmother in 1974 from the Marked Tree High School in appreciation for her work.
To the centerpiece I've added some magnolia's in bloom and bud, a rope of crystal beads, and one lone sparkly ornament. I also tossed some blue and silver curly ribbon around for the "party look"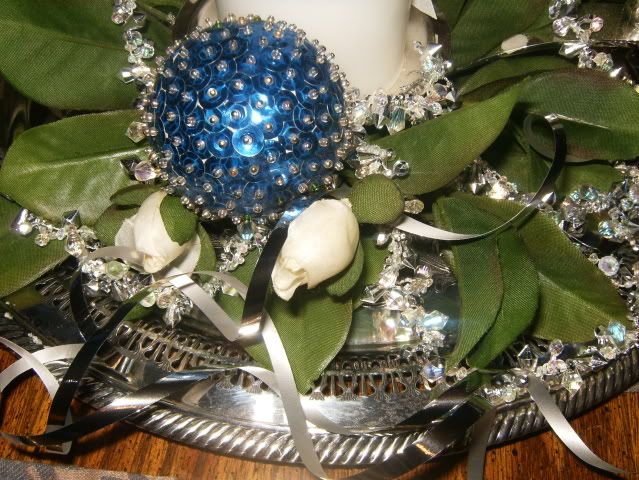 I set the table with two different place settings for something different. Sadly I could not find any silver chargers today while out shopping and settled for the gold ones instead. On top of that is a gold rimmed piece of china handed down from Truckers mother.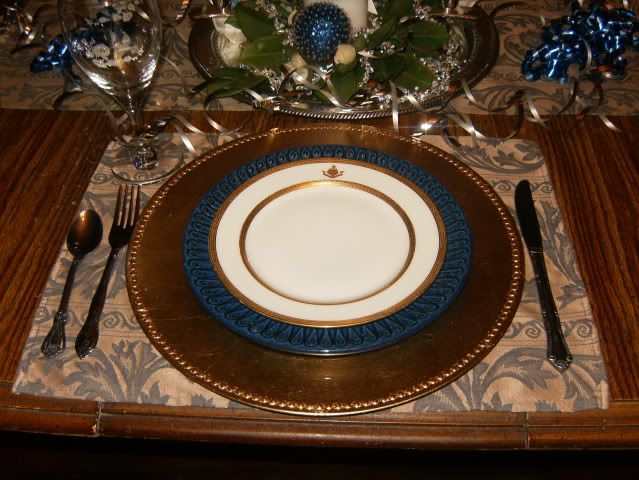 This place setting is the same except for the salad plate which is a piece in the set passed down from Truckers grandmother.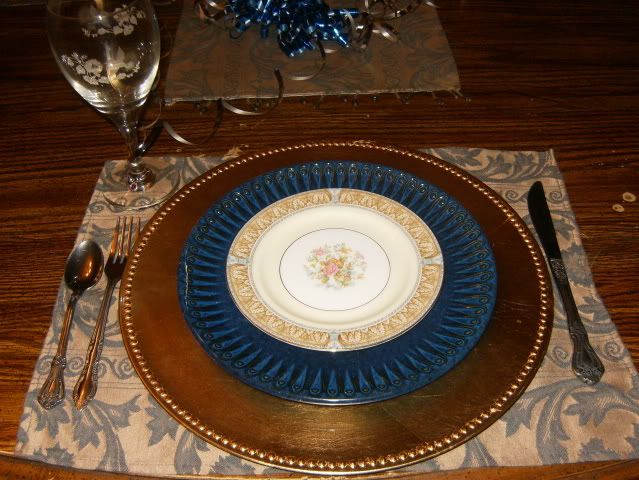 This is my favorite wine glasses. I adore these. They are each etched in a design depicting my favorite of all birds, the hummingbird. Until tonight I had a lovely set of four, that is until while placing everything I clumsily knocked one off the table. I could have cried.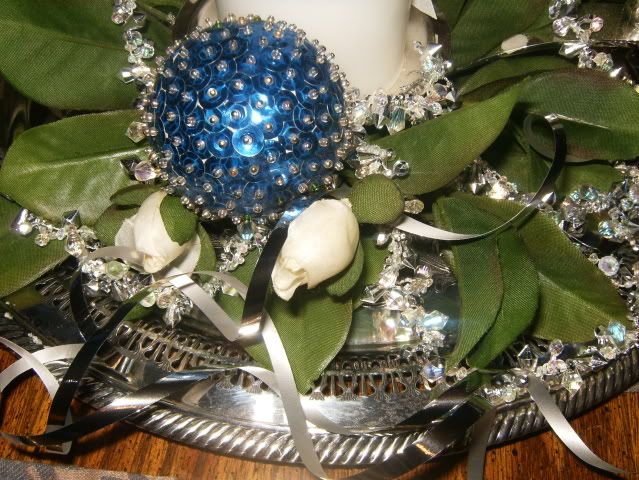 I hope you have enjoyed my New Years as much as I had doing it. Well at least till I broke my favorite glass anyway.
Many thanks to Susan for being such a gracious host for our TableScape Thursdays.
Happy New Years My Friends,