Welcome to
Love on Wednesdays
which is the brainchild of
Coloradolady
. During the month of February, since it's the LOVE month, she is hosting Love on Wednesdays. Each week you simply post pictures of something you love and tell the story of it. Link back to her blog and also add yourself to Mr. Linky
which naturally is on her blog site.
As much as I fuss, whine and bitch about this house, I am in love with it. I've always wanted
from the time I was a wee lass
an older home in which to redecorate and cherish. Our home was built in the 1930's and shows its age now. Through every single container we sit to catch rain on the inside, to the windows you can feel air come in around. Oh believe me it's far from a perfect home, but it has so much character and charm that it made me fall in love with it. Almost every room in this house has wood floors, which also show their age. It also has a lot of history in this ole place. The house originally belonged to Truckers grandmother. She had it built to her specifications and lived here till her death
in my what's now laundry room,
when Trucker was in his early 20's. In fact Trucker called this place home from the age of 17, when his mother passed away.
The first year Trucker and I were married I did have time to redo the kitchen. Not by adding on,
that would be wonderful,
but by giving it a cosmetic makeover. So without further ado here is our home and the kitchen makeover pictures.
Here's the before pictures of the kitchen. Notice how dark it is. I hated it.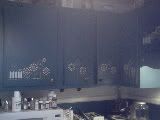 Now here's some after shots of it. So much brighter and cheerful. As you can see I love collecting bird houses.